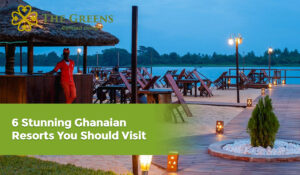 Ghana is a fantastic African vacation destination. Aside from being a land of liberty and opportunity, the West African country has a tropical environment, valuable natural resources, diverse cultures, and a warm, hospitable, and welcoming citizenry. It's no surprise that Ghana has recently grown in popularity as a vacation destination, with a corresponding increase in 
real e
state developments and 
houses for r
ent to accommodate visitors. Below are a few dive resorts worth a weekend away or a visit from Ghana's capital city, Accra.
Bridgeview Resort Akosombo
Akosombo's Bridgeview Resort is a haven that reflects Ghana's beauty from the mountains. The resort is also surrounded by Lake Volta, one of the world's largest man-made lakes, which blends seamlessly with the resort to provide a stunning view. The resort's captivating architecture and structure ensure visitors' peace and privacy. Its world-class suites each have their own distinct combination of majestic views and charming interiors.
Peninsula Resorts & Golf Club
Peninsula Resorts & Golf Club is located in the mountainous areas of Akosombo. Unlike other resorts, Peninsula Resorts and Golf Club require reservations in advance. The serenity that characterises the atmosphere at this resort, according to the website, makes it an ideal location for a country retreat or relaxation. The hotel charms its visitors by combining classic style, elegant comfort, spectacular views, and rich natural heritage. Additionally, the resorts give off a paradise vibe with comfortable chalets, amazing food and a landscape that portrays Ghana's natural beauty. Peninsula Resort & Golf Club is indeed a perfect place to relax and hide away from all the city hustle and bustle.
Treasure Island in Ghana has a game centre, magnificent water slide, restaurant, bar, and conference centre. You can also go boating, jet skiing, horseback riding, and visit a petting zoo, among other things. It is situated on a private island near the Atlantic Ocean's estuary and the Volta River. Its
eco-friendly
construction materials provide guests with an intimate balance of luxury and nature. In addition, the home-style chalets, bungalows, penthouses, deluxe and standard rooms, as well as the delectable meals served in the restaurants, are of the highest quality and standards. Treasure Island is a fantastic place to visit with family and friends in Ghana.
Meet Me There African Home Lodge
The stunning Meet Me There African Home Lodge is located in Ghana's Volta Region, between the villages of Dzita and Dzita Abledomi. Unlike other options, it portrays Ghana's culture and history through its local designs, artefacts, and dishes served. Meet Me There African Home Lodge is also an ideal getaway location for those looking to escape the hustle and bustle of the capital city. This means that your privacy and peace of mind are not jeopardised. According to their website, there is no WiFi, television, cashless services, or air conditioners, and the car park is on-site.
Accurase Paradise in Prampram
The home of healthy living, Accurase Paradise, is a harmonious blend of tradition and modernity. Accurase sets the tone for a good time with names like Adehye, Ahenemaa, Bomenkomo, and Awarefo suites. Some of the activities available at the Accurase Paradise include the moonlight lounge, sunset lounge, poolside events, lower deck, Triple P Cinema (enjoy your favourite movie while sitting on seashell floaters in the pool) and Blaze n' Barb (a nice bonfire with roasted skewers and soft beverages).
The C Resorts is a hidden gem in Prampram, with a massive swimming pool that borders the sea. This resort, located 38 kilometres from Kotoka International Airport, has a grill restaurant, Italian cuisine, tennis courts, a sun terrace, and other enjoyable activities. This short list of resorts in Ghana equally passes as a honeymoon destination. Make sure to offer feedback on your thrilling experience at these resorts for those who are still unsure.