Factors That Contribute to a Good Real Estate Location
The popular adage in real estate investing holds that the most important factor to consider when investing in the housing market is location. Nonetheless, as demand in the housing market continues to rise, homebuyers are most likely to settle for any house that hits the market.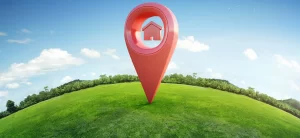 Irrespective, homebuyers who own properties in desirable areas will get the most bang for their buck.
Identifying the factors that make great investment locations will increase the property's value over time. This will help to alleviate financial burdens and constraints as well however, these factors are not always easy to spot, particularly in real estate Ghana.
As a result, the following are a few points to consider when choosing an investment location in Ghana, which can help first-time investors make the best decision on that house for sale in Accra as well.
Locations with high demand for skilled and unskilled labour.
In most communities, the demand for skilled and unskilled labour helps to drive the demand for rental properties. Most workers will invariably choose to live in or near their place of employment to save money. Many houses for sale in Ghana in locations near Accra's commercial or industrial areas make excellent rental investments. Thus, these properties can be used as short/long stay rentals to yield returns because the abundance of businesses in a location will result in higher demand in rent than its vacancy rate. 
Prosperous neighbourhood, with excellent schools, infrastructure, and hospitals, among other amenities. 
The best schools, hospitals, malls, and restaurants are usually located in areas where the "big boys" play. Thus, these establishments are traditionally established in areas with a high concentration of Ghana homes to provide essential services to the residents. 
Therefore, buying a house for sale in Ghana in such a location will appreciate over time, as the big boys only play where they can fish.
Even though current amenities are essential to the community, future amenities are equally important. It is critical to learn whether commercial or residential developments are planned for the area you intend to buy the house for sale because new developments and establishments make the area more desirable and increase the property's value. 
Commuting to and from locations with multiple entry points is simple and convenient. A location with multiple entry points and easy access to multiple modes of transportation will be more desirable than one with few commuting options. 
As a result, accessibility is an important factor to consider when selecting a property investment option, especially for rental purposes. 
To summarise, even though there are numerous ways to select a desirable neighbourhood for your investments, locals are the best people and an invaluable source of knowledge. Engage in chit-chat to know more about the community as they are more likely to open up about the community's challenges and problems. Also, be objective when looking for an investment location, even if the neighbourhood is deplorable and fits your ideal dream home.