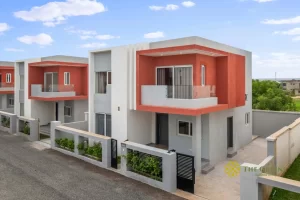 Ghana's real estate industry has grown significantly over the years, with a diverse range of
houses for sale
throughout the country. These houses are available in a variety of sizes, styles, and locations, allowing people with varying preferences and budgets to find a suitable home.
A few examples are provided below.
The single-family home is one of the most popular types of houses for sale in Ghana. These homes are typically found in gated communities and provide a comfortable living environment with a variety of amenities. They are typically constructed of brick and mortar, with large windows and open floor plans. The cost of a single-family home in Ghana varies according to location and the size of the property, as well as the amenities in the community. 
The townhouse is another type of
house for sale in Ghana
. These homes are ideal for those who want some privacy but want to avoid dealing with the maintenance that comes with a single-family home.
Townhouses
are typically two or three stories tall and provide a small but comfortable living space. They are frequently located in urban areas, making it easy for residents to access all of the city's amenities.
Apartments for Sale in Ghana 
Apartments are another popular
house for sale in Ghana,
particularly in cities such as Accra and Kumasi. Apartments provide an excellent opportunity for people to own a home without worrying about the upkeep and maintenance of a standalone property. They are usually found in high-rise buildings and come with a range of amenities such as swimming pools, gyms and 24-hr security. 
Explore this
real estate investment property in Ghana
comprised of 1-4 bedroom townhouses with full-service amenities by a leading Ghanaian real estate developer.
There are also high-end homes for sale in Ghana for those seeking a more luxurious living environment. These homes are frequently located in exclusive neighbourhoods and include amenities such as private swimming pools, expansive gardens, and high-end finishes. They are typically larger and more expensive than other types of Ghanaian houses for sale, making them an excellent choice for those with a larger budget.
In Ghana, there has also been an increase in demand for eco-friendly homes in recent years. These homes are built with eco-friendly features such as solar panels, rainwater harvesting systems, and energy-efficient appliances. They provide a sustainable living environment and are an excellent choice for those concerned about their carbon footprint.
Finally, the Ghanaian real estate industry provides a diverse range of
houses for sale
to meet the needs of various people. There is something for everyone, from single-family homes to apartments and high-end luxury homes. With a growing economy and a stable political environment,
buying a house in Ghana
can be an excellent choice for those looking for a place to call home