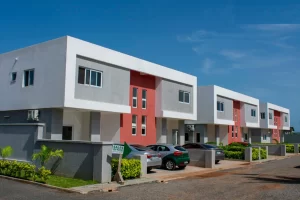 When searching for 
houses for sale in Accra
, it can take time to decide whether a townhouse, a duplex, a condo, or an apartment is the best option among the many real estate developments available. Townhouses, on the other hand, have proven to have numerous benefits, especially to residents, some of which are listed below.
Affordability: Townhouses are frequently less expensive than single-family homes, making them an appealing option for first-time homebuyers or those looking to downsize.
Townhouses are frequently located in desirable neighbourhoods, close to amenities such as shopping, dining, and entertainment.
Amenities: When compared to other apartment options in Ghana, many townhouse communities provide amenities such as swimming pools, tennis courts, and fitness centres, which can be a significant benefit for those looking to improve their lifestyle.
Townhouses are frequently found in gated communities or secured buildings, providing residents with a sense of safety and security.
Townhouse living can foster a sense of community among residents because neighbours frequently share walls and common areas.
Townhouses typically have smaller outdoor spaces, which means less space to maintain and lower outdoor maintenance costs.
Lower energy costs: Townhouses can help keep energy costs low because shared walls provide insulation from the outside.
On the other hand, townhouses have their own set of drawbacks in the real estate industry, such as noise from neighbours and reduced privacy, less outdoor and storage space, and limited customization options. It is critical to weigh the benefits and drawbacks before making a decision. Before making a decision, you can schedule a viewing with
real estate companies in Ghana
 to get a quick glance at the environment. The Greens Ghana has 
3 & 4-bedroom town houses
in a prime serene area of Accra, with over 5 projects sold out. The beautiful gated community has a track record of providing occupants with privacy, safety, and peace, as well as a clubhouse, swimming pool, and tennis court to ensure comfort.