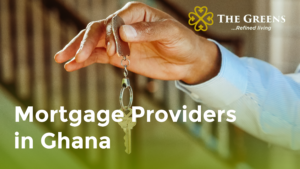 The days of acquiring real estate primarily through inheritance and years of saving are long gone. For many people, owning a home is still one of the most important adult responsibilities.
As a result, many banks are offering new financial and product services that allow customers to acquire entirely constructed homes or, better yet, provide customers with a lump sum of funding by allowing them to maintain or purchase a property. Customers or clients who bank with financial institutions that offer loan services can choose between personal loans and mortgages based on their financial situation.
However, before finalising the transaction, it is strongly advised to seek mortgage advice.
Mortgage in Ghana
has its own set of requirements, which are listed below for those looking to start the process of buying
mortgage houses for sale in Ghana.
MORTGAGES REQUIREMENTS (SALARIED WORKERS)
Salary workers who want to finance a home with mortgage loans must meet the requirements listed below. The mortgage requirements of the bank's customers or clients may differ.
Application Form Completion by Applicant 

Proof of Income

Income certification from the employer

The employer agrees to route salary through the preferred bank for a mortgage loan and to notify the bank if an employee resigns or is fired.

Proof of residency (utility bill/residence directions)

Personal bank statement for the previous six months

Identity verification

One or two current passport-size photographs

The proposed property's site plan and land title document
ADDITIONAL MORTGAGE REQUIREMENTS (SELF-EMPLOYED)
Incorporation Certificate

Personnel in positions of power

3 years of audited financial and management accounts

Cash Flow Forecasts (with assumptions and covering the borrowing period)

Bank Other bankers' statements

Proof of regulatory licences, permits, and so on.

Map with directions to the business location
Cal Bank is a leading Ghanaian bank committed to addressing local issues confronting Ghanaian businesses, corporate institutions, the government, and individuals. You must be between the ages of 21 and 55 to be eligible for a Cal Bank mortgage.
On July 5, 2020, First National Bank (FNB) acquired Ghana Home Loans and became the country's leading mortgage lender. FNB provides a wide range of services, including mortgages for home purchases, home construction, and land purchases. The bank will pay up to 80% of the purchase price of a home and 75% of the purchase price of land (serviced plot).
Purchase or build the home of your dreams with a Stanbic Bank mortgage loan that is repaid over time. To name a few, the services are tailored to meet the needs of developers, home buyers, equity release, refinancing, and home improvement.
Stanbic Bank is a leading Africa-focused financial services organisation that contributes to the continent's social, economic, and environmental growth.
United Bank of Africa has a 70-year history and is one of Nigeria's most prominent and well-known banking brands. UBA's operations are expanding in over 20 African countries, as well as the United States, the United Kingdom, and France, with Ghana being no exception.
Absa Bank Ghana Limited aspires to be Africa's pride as an African financial institution. The bank provides a wide range of financial services, including mortgages.
Among the home loan services offered are getting a mortgage to buy or own a home, borrowing against a home you own with an equity release, a home loan to improve and/or renovate, and purchasing your mortgage from other financial institutions.
The bank will finance up to 90% of a home's purchase price and up to 70% of equity release and home improvement projects.
The Pan African Bank is a commercial bank that is licenced by the Bank of Ghana and has over 1,200 branches in 33 countries. Product services include loans, savings, investments, debit cards, credit cards, and mortgages.
An Ecobank mortgage loan can assist you in purchasing or renovating a home. The home mortgage programme also enables tier 2 and 3 pension contributors to become homeowners and own their own homes while still working. The client pays 20% of the total cost of the property, with the bank covering the remaining 80%. The interest rate on the loan is determined by factors such as the client's salary and the level of risk involved.
A Republic Bank mortgage loan can help you buy your dream home. Customers and individuals can choose from home purchase mortgages, home equity mortgages, home completion mortgages, and home improvement mortgages, as with other banks.
Furthermore, according to their website, mortgages up to 10 years equal 21%, while mortgages between 10 and 20 years equal 22%.
Ghanaian individuals and institutional investors own Fidelity Bank, a licenced universal bank. Fidelity's vision is to become a world-class financial institution that provides superior returns for all stakeholders, despite its reputable position as the seventh-largest bank in Ghana in terms of assets.
Mortgage loan services are available to employed people, over the age of 21, and under the age of 60 at the end of the loan term. Customers who work for any fidelity profiled organisation or who are self-employed and have verifiable consistent income flows are both eligible. 
Owning a property in Ghana continues to be a profitable investment for the majority, as the country has one of the highest investment returns among Africa's many countries. As a result, mortgage loans aid in the process of purchasing a home of any type and location, including
gated communities.
If you want to buy a four or five-bedroom
detached house in Ghana
, go to
The Greens Investment Properties.