When it comes to securing your dream home, understanding the landscape of Mortgage Providers in Ghana is essential. The days of acquiring real estate primarily through inheritance and years of saving are long gone. For many people, owning a home is still one of the most important adult responsibilities.
However, before finalizing the transaction, it is strongly advised to seek mortgage advice.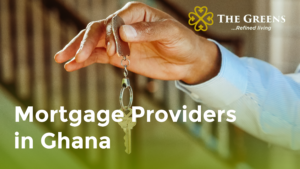 Mortgage in Ghana
has its own set of requirements, which are listed below for those looking to start the process of buying
mortgage houses for sale in Ghana.
MORTGAGE REQUIREMENTS (SALARIED WORKERS)
Salary workers who want to finance a home with mortgage loans must meet the requirements listed below. The mortgage requirements of the bank's customers or clients may differ.
Application Form Completion by Applicant 

Proof of Income

Income certification from the employer

The employer agrees to route salary through the preferred bank for a mortgage loan and to notify the bank if an employee resigns or is fired.

Proof of residency (utility bill/residence directions)

Personal bank statement for the previous six months

Identity verification

One or two current passport-size photographs

The proposed property's site plan and land title document
ADDITIONAL MORTGAGE REQUIREMENTS (SELF-EMPLOYED)
Incorporation Certificate

Personnel in positions of power

3 years of audited financial and management accounts

Cash Flow Forecasts (with assumptions and covering the borrowing period)

Bank Other bankers' statements

Proof of regulatory licenses, permits, and so on.

Map with directions to the business location
Mortgage Providers in Ghana
If you're considering obtaining a mortgage for your dream home in Ghana, it's essential to know the leading mortgage providers in the country. These financial institutions play a crucial role in making homeownership a reality for many Ghanaians. Let's explore some of the prominent mortgage providers and the services they offer
On July 5, 2020, First National Bank (FNB) acquired Ghana Home Loans and became the country's leading mortgage lender. FNB provides a wide range of services, including mortgages for home purchases, home construction, and land purchases. The bank will pay up to 80% of the purchase price of a home and 75% of the purchase price of land (serviced plot).
property in Ghana continues to be a profitable investment
, and these mortgage providers can help make your dream of homeownership a reality. Whether you aspire to live in a
gated community
or any desired location, explore the mortgage options offered by these institutions to secure your path to owning a home in Ghana.