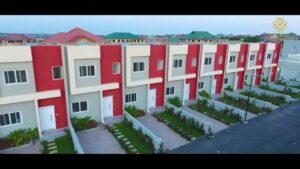 In Ghana, an estate is a planned community or housing development with multiple residential units owned by various individuals or families. These estates frequently have communal amenities like playgrounds, parks, swimming pools, and security services.
These estates are frequently found in urban areas and offer residents access to basic amenities such as water, electricity, and sanitation.
There are various types of estates in Ghana, which include;
| | |
| --- | --- |
| TYPES OF ESTATES IN GHANA  | DEFINITION |
| | Typically, these are high-end residential estates with restricted access and security. They are popular among affluent Ghanaians and expatriates because they provide a sense of exclusivity, privacy, and security. |
| AFFORDABLE HOUSING ESTATES  | These are housing developments designed to provide low- to middle-income earners with affordable housing. They are frequently constructed by the government or private developers with government assistance to provide adequate housing for citizens. |
| LUXURY ESTATES  | These are luxury residential estates with amenities such as golf courses, spas, and restaurants. They are frequently located in prime locations and are only available to the ultra-rich. |
| MIXED-USED ESTATES  | These are estates that have a mix of residential, commercial, and industrial components. They frequently include shopping malls, offices, and residential units. |
One of the primary reasons
for the development of
estates in Ghana
is the country's rapid urbanisation, which has resulted in a scarcity of affordable houses for sale in many areas. As more people migrate from rural to urban areas in search of better opportunities, the demand for housing has risen dramatically. However, the supply of
estate houses for sale in Accra
has not kept up with this demand, forcing many people to live in slums or informal settlements.
To address this issue, the Ghanaian government has implemented a number of policies and initiatives aimed at increasing the supply of affordable housing, including the development of estates. Typically, these estates are built through public-private partnerships, with the government providing land and infrastructure and private developers constructing the housing units.
Nonetheless, The Greens Ghana, an estate development located in Accra's prime areas, is one of the most notable estates in Ghana.
The estate offers a variety of housing options, including one, two, three, and four-bedroom detached houses, as well as community amenities like a swimming pool, gym and fitness area, multi-purpose sports course, and 24-hour security service.
Finally, there is a diverse range of estates in Ghana that cater to various lifestyles and needs. These estates offer a pleasant living environment complete with modern amenities, security, and community facilities. There is an estate in Ghana to suit your needs, whether you want a luxurious or affordable lifestyle.